Economic events calendar in Match-Trader
In our October release, we've added a calendar of economic events to our Match-Trader trading platform, through which traders themselves can check the time, country and forecast of an event of interest. The new section can be visible to customers, but it can be hidden if desired. Filtering by impact events is also available.
Sales Dashboard in Back Office
In order to expand the capabilities of your sellers and structure their work, we've added a specialized sales dashboard to our back-office applications. From now on, Brokers will be capable of checking the performance statistics of specific sellers to measure achievement and fulfilment of tasks and identify possible changes in plans and strategies. In addition, information about deposits and withdrawals of clients became visible on the dashboard. Thanks to the filtering function, you can segment customers as well as see the sum of customer deposits of the selected account manager.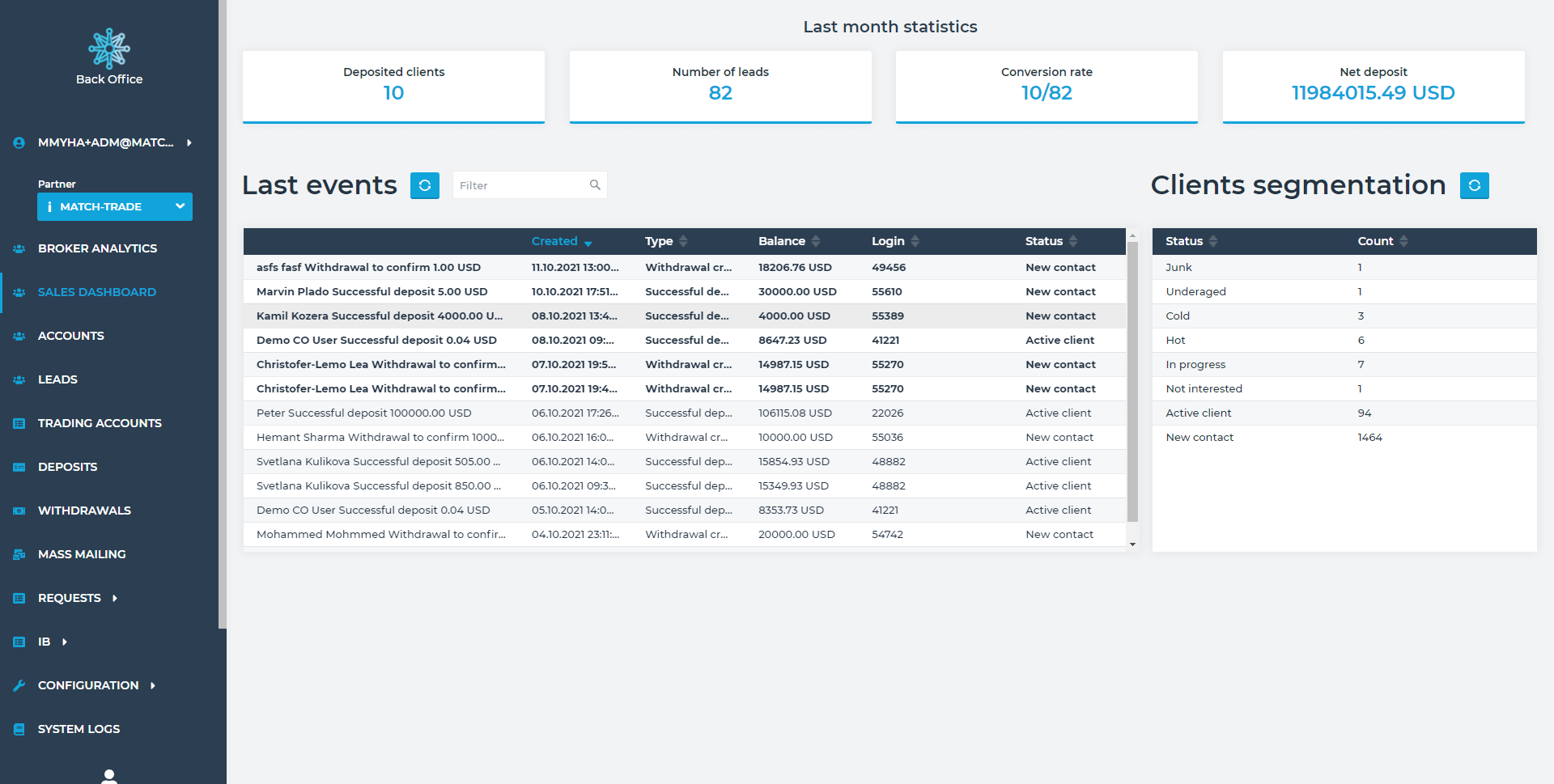 CPA Program for IBs / Affiliates
In our Back Office Apps, a new commission program (Cost Per Acquisition) for Introducing Brokers is now available, which makes it possible to reward IBs or Affiliates with a referral commission based on the amount of customer deposits. You can choose the type of bonus (fixed or percentage) and set the max and min amount of the deposit from which the commission will be available.
Full-screen chart view in Match-Trader trading platform 
Users of the web version of the Match-Trader platform now can increase the size of their chart by clicking on the "full screen" button in the right upside corner of the platform. So that the size of the chart can be increased to fill the full computer screen. To resize ad return to the regular chart view, you need to click the "full screen" button again. The trading form on the full-screen chart has also been added to the mobile version of the platform.
Additional user information
In the October release, we've added additional information about platform users to our Client Office and Back Office application. Now, a section has appeared in the Accounts and Leads tabs that summarizes the data of all client's trading accounts and also shows local time and weather.
New Indicators in Match-Trader Platform
We are constantly working to improve our trading platform. In order for users of our platform to better identify and eliminate risks, as well as increase potential profit, we've added new technical analysis indicators that will help traders to determine the strength of the trend and will become their must-have tools:
Ichimoku Cloud
Average Directional
Awesome Oscillator
Commodity Channel
Know Sure Thing
Rate of Change
Stochastic RSI
TRIX
Typical Price
Weighted Moving Average
Smoothed Moving Average
Williams R.
Stripe & PayRetailers & Webpays
We've added new payment methods to our Client Office App and our Match-Trader platform:
Stripe payment provider, which supports processing payments in 135+ currencies and allowing you to charge customers in their native currency while receiving funds in yours
PayRetailers, especially suitable for our Latin American clients – fully localized payment solution with more than 250 payment methods in 12 countries
Webpays (CIS) – ensures security and smooth payments' transfer, helps to unite credit cards by Mastercard and Visa, Belcard, and e-money belqi